Electronics Kits
Welcome to the HandsOn Technology official website. HandsOn Technology is a manufacturer of high quality educational and professional electronics kits and modules. Inside you will find Electronic Kits and fully assembled and tested Modules for all skill levels. Please check back with us regularly as we will be adding many new kits and products to the site in the near future.
Do you want to stay up to date with electronics and computer technology? Always looking for useful hints, tips and interesting offers?
Bookmark this page for up-to-date information....
Inspiration and goals...
HandsOn Technology provides a multimedia and interactive platform for everyone interested in electronics. From beginner to diehard, from student to lecturer... Information, education, inspiration and entertainment. Analog and digital; practical and theoretical; software and hardware...
HandsOn Technology provides Designs, ideas and solutions for today's engineers and electronics hobbyists.
HT-MP213 USB-to-UART Interface Board
The HT-MP213 is designed to transition a piece of hardware from an RS-232/485 interface to a USB interface. We were attracted to the CP2103 because of its skinny schematic diagram.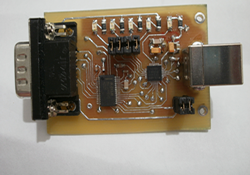 Thanks to a special integrated circuit from Silicon Laboratories, computer peripherals with an RS232 interface are easily connected to a USB port. This simple solution is ideal if a peripheral does not have a USB port, your notebook PC has no free RS232 port available, or none at all !